Kelly Double Tour bracelet
¥4,350
Double tour bracelet in Box calfskin with rose gold plated Kelly closure
Wrist size approx. 15.5 cm
Delivery
• Complimentary express delivery
• In-store collection available within 2 to 10 business days
• Purchases are delivered in an orange box tied with a Bolduc ribbon, with the exception of certain items
• See the delivery
FAQs
for details
Payment methods
• WeChat Pay is available from WeChat browser and on desktop
• AliPay is available except from WeChat browser
• Mobile Quick Payment is available on mobile including from WeChat browser.
• Internet Banking is available on desktop.
For orders over 50,000 Yuan, to ensure your payment is successful, we recommend you to use Internet Banking on your computer.
Returns and exchanges
• Return within 7 days
• Must be returned unnopened, in its original packaging and all tags intact
• See our
FAQs
for conditions and information
Your purchases are delivered in an orange box tied with a Bolduc ribbon, with the exception of fragrances, books, certain equestrian and bulky items.
During checkout, you can include a card with a personalized message and a priceless invoice. 
A customer can exchange a gift. For more details, please contact our
Customer Service
.
The story behind
Inspired by the storied Kelly bag created in the 1930s, the Touret clasp has become a signature of the house. This closure can be found on two timeless bracelets: the Kelly Dog cuff and the Kelly double-tour bracelet.
FAPIAO INFORMATION
Please fill Fapiao information in Chinese.
* Required information
Cart
You have no items in your cart.

Want to return an item?
To request an exchange or a refund, please to your account
Personalize your product

Kelly Double Tour bracelet
¥4,350
Double tour bracelet in Box calfskin with rose gold plated Kelly closure
Wrist size approx. 15.5 cm
* Required information
Here to Help
But you can also contact us:
Customer Service
Mon-Sun: 10:00 am - 10:00 pm
Please scan QR code in Wechat, and follow us to chat with an assistant.
Monday to Sunday 10:00 am - 8:00 pm
Wechat ID : Hermes_Official
Monday to Sunday 10:00 am - 8:00 pm
Frequently Asked Questions
See all FAQs
Measure yourself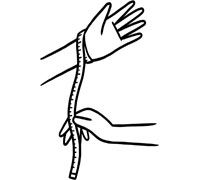 Taking the appropriate measures !
This bracelet opens and closes directly on the wrist. Therefore, you only need to measure your wrist circumference when choosing your bracelet. A properly fitted watch strap can serve as your guide, just like a measuring tape. The chart below indicates which Hermès sizes correspond to measurements.
| Hermès sizes | Wrist circumference equal to or less than |
| --- | --- |
| T1 | 14.5 cm |
| T2 | 15.5 cm |
| T3 | 16.5 cm |
| T4 | 17.5 cm |
| Hermès sizes | Wrist circumference equal to or less than |
| --- | --- |
| T1 | 5.7" |
| T2 | 6.1" |
| T3 | 6.5" |
| T4 | 6.9" |
Add an address
Edit address
* Required information
Already have an account?
Create an account
Thanks to your Hermès account, you will be able to:
• Access your shopping cart
• Access all your orders and download the related sales memo
• Manage your address book to order faster
• Update your personal data
Account
Create an account
* Required information
Have a question? You may find an answer in our FAQs. But you can also contact us:
* Required information
Women

Ready-to-wear

Bags and small leather goods

High jewelry and jewelry

Fashion jewelry

Apple Watch Hermès

Men