Oranges Boxes | Hermes
The Journey of an Orange Box
Escape into the enchanted world of Hermès' storyteller and illustrator Alice Charbin.
Alice Charbin's Life in Orange
Since 2002, illustrator Alice Charbin has been painting the web pages of the house orange. Her poetic, spirited drawings depict the hundred twists and turns of the orange box,which lends itself, under her fingers, to many a metamorphosis, in a whimsical world where her humour fits like a glove.
Orange Appeal
While orange has won the hearts of the house's boxes, its beginnings were shaped by the vagaries of history. During the Second World War, supplies of the original boxes, at first cream-coloured with a golden border, then beige with brown piping, ran out. The cardboard maker only had orange paper left: thus what was once a standby became Hermès's signature. Incidentally, it was during a business lunch, in the sixties, that orange officially earned its spurs new generation's three cousins, Bertrand Puech, Jean-Louis Dumas and Patrick Guerrand, embraced it for good after seeing many of their customers carry bright orange bags. Ever since then, orange has been all the rage.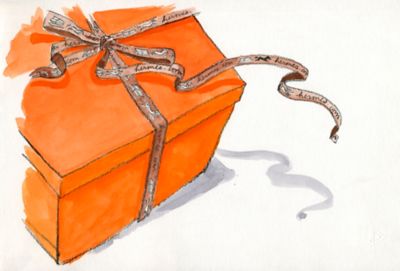 Something went wrong. Fear not, we will be right back

Something went wrong. Fear not, we will be right back
Thank you!
Your reservation request has been taken into account.

You will receive a confirmation e-mail from the store within four business hours.
Please, wait for the email confirmation before visiting the store.

FAPIAO INFORMATION
Please fill Fapiao information in Chinese.
* Required information
Cart
You have no items in your cart.

Want to return an item?
To request an exchange or a refund, please to your account
Here to Help
But you can also contact us:
Customer Service
Mon-Sun: 10:00 am - 10:00 pm
Please scan QR code in Wechat, and follow us to chat with an assistant.
Monday to Sunday 10:00 am - 8:00 pm
Wechat ID : Hermes_Official
Monday to Sunday 10:00 am - 8:00 pm
Frequently Asked Questions
See all FAQs
Add an address
Edit address
* Required information
Already have an account?
Create an account
Thanks to your Hermès account, you will be able to:
• Access your shopping cart
• Access all your orders and download the related sales memo
• Manage your address book to order faster
• Update your personal data
Account
Create an account
* Required information
Have a question? You may find an answer in our FAQs. But you can also contact us:
* Required information
Women

Ready-to-wear

Bags and small leather goods

High jewelry and jewelry

Fashion jewelry

Apple Watch Hermès

Men

Ready-to-wear

Bags and small leather goods

Apple Watch Hermès

Home

High jewelry and jewelry

Fashion jewelry

Watches

Fragrances

Shoes

Bags and small leather goods