Saint-Junien, fitting like a glove
THE COMMUNITIES
Saint-Junien, fitting like a glove
Competition and changes in consumption patterns have caused a number of setbacks for the French glove-making industry, born in the Middle Ages in the heart of livestock-rearing regions. Almost a century old, the Ganterie de Saint-Junien, situated on the banks of the River Vienne, is the oldest glove factory in France. Acquired by Hermès in 1998, it has been given a new lease of life.
This former cooperative in central France has perpetuated glove-making know-how since 1919. It has supplied Hermès since 1981. In 1998, when the group acquired the Ganterie, it employed around 60 people, of whom half worked from home. Twenty years later, the move from a modest workshop in the town centre to a former wool-processing factory represents new momentum.
Fifty-four leather goods craftsmen have joined the fifty or so glove-makers. Since 2016, wallets have been added to the gloves manufactured according to the "Jouvin system". A glove-maker from Grenoble, Jouvin revolutionised French glove-making, notably in 1834 with his "iron hand" shape-cutter, which remains one of the secrets of Saint-Junien gloves to this day.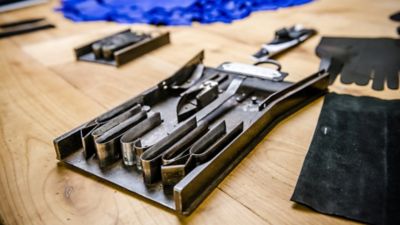 Living Heritage Companies in tune with the times

They master crystal and silver, discipline leather, enhance fabrics, and print on ceramics. A dozen Hermès companies are certified Entreprises du Patrimoine Vivant (EPVs, or living heritage companies). This label is reserved for exceptional techniques, outstanding patents and archives, and long-established geographical roots. It is above all a breeding ground for innovation.
 
Montbron, from Charentaise slippers to Hermès bags

The River Tardoire meanders through the fields where Limousine cows graze lazily. Montbron, in its picture postcard landscape, was sliding into oblivion. The opening of the Hermès leather workshop created over 250 jobs that contributed to the regeneration of this town in the Charentes area of southwestern France.
 
Silk with a generous quality

A Hermès carré is more than just a scarf, particularly when it is socially responsible. Limited editions are regularly produced in support of actions by local non-profit organisations. The square takes sides when it comes to women's and children's rights, preserving the environment, protecting endangered species, and supporting art.
 
FAPIAO INFORMATION
Please fill Fapiao information in Chinese.
* Required information
Cart
You have no items in your cart.

Want to return an item?
To request an exchange or a refund, please to your account
Here to Help
But you can also contact us:
Customer Service
Mon-Sun: 10:00 am - 10:00 pm
Please scan QR code in Wechat, and follow us to chat with an assistant.
Monday to Sunday 10:00 am - 8:00 pm
Wechat ID : Hermes_Official
Monday to Sunday 10:00 am - 8:00 pm
Frequently Asked Questions
See all FAQs
Add an address
Edit address
* Required information
Already have an account?
Create an account
Thanks to your Hermès account, you will be able to:
• Access your shopping cart
• Access all your orders and download the related sales memo
• Manage your address book to order faster
• Update your personal data
Account
Create an account
* Required information
Have a question? You may find an answer in our FAQs. But you can also contact us:
* Required information
Women

Ready-to-wear

Bags and small leather goods

High jewelry and jewelry

Fashion jewelry

Apple Watch Hermès

Men

Ready-to-wear

Bags and small leather goods

Apple Watch Hermès

Home

High jewelry and jewelry

Fashion jewelry

Fragrances

Shoes

Bags and small leather goods

Scarves and silk accessories

Equestrian

Reading and writing